Vacancy: Research Assistant & PhD Student
Pathological conditions, including non-union bone defects, skin lesions, neurological disorders and inflammatory processes during cancer development are growing in occurrence due to an aging population. These problems are debilitating, costly and current approaches have limited success in alleviating suffering. The controlled delivery of biological molecules, such as growth factors (GFs) – proteins that orchestrate our development and hold the capacity to stimulate cellular growth and differentiation and that could thus drive regeneration – could provide potent tissue engineering strategies to promote tissue development and repair. However, the soluble administration of these proteins usually implies their delivery at high doses, which produces undesired, potentially serious/fatal systemic effects limiting their clinical use. In this project, led by Dr. Cristina Gonzalez-Garcia of the Division of Biomedical Engineering, the team will develop a new hydrogel that will act as a bioactive carrier for the efficient and local delivery of GFs for tissue engineering applications (Figure 1 below).  Low doses of GFs released to the site of injury, together with the bioactivity of the own carrier, will provide a synergistic effect that will reduce the high GF doses required with current technologies and that lead to undesired systemic effects.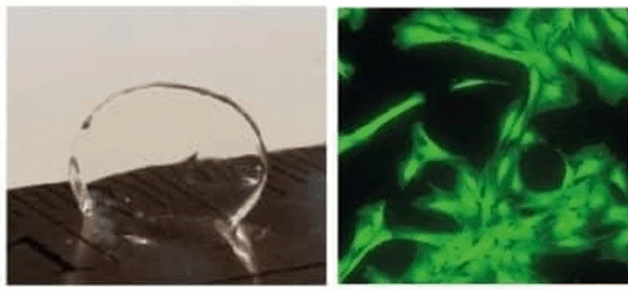 This new project, funded through a New Investigator Award from the UKRI EPSRC will support new posts in Dr. Gonzalez-Garcia's group, within the Centre for the Cellular Microenvironment. Applications are invited for a PDRA and a PhD student to join her group to work in the project, starting in March 2020 and funded for two years.
Link to PDRA post: https://www.jobs.ac.uk/job/BYK629/research-assistant