GLORI 2020 Symposium
On Wednesday 19th February, the Glasgow Orthopaedic Research Initiative held it's 8th symposium, bringing together expertise from the fields of orthopaedics, plastic surgery, biology, engineering and chemistry. The event was held in the Debates Chamber of the Glasgow University Student Union and with 90 registered attendees, the day was an exciting one!
Professor Dominic Meek (Co-Founder) started by welcoming everyone and hopes of having a fruitful day full of talks and collaboration. The programme started with invited speaker, Dr Sylvie Coupaud from University of Strathclyde, posing the question 'What do astronauts & paraplegics have in common?'. Our keynote speaker was Professor Richie Gill, President of the British Orthopaedic Society and Professor within the Department of Mechanical Engineering at the University of Bath, with a talk titled 'In silico trials and machine learning for orthopaedics and trauma'.
With a wide range of talks from external to local speakers and PhD student's, exciting data and impressive images, topics ranged to veterinary cases with the HealiOst technology to testing new therapeutic approaches in Chronic Myeloid Leukaemia.
We ended the day with poster presentations and prizes, the two winning posters were PhD students Stylianos Sarrigiannidis and Sofia Perea Ruiz, below with their winning posters.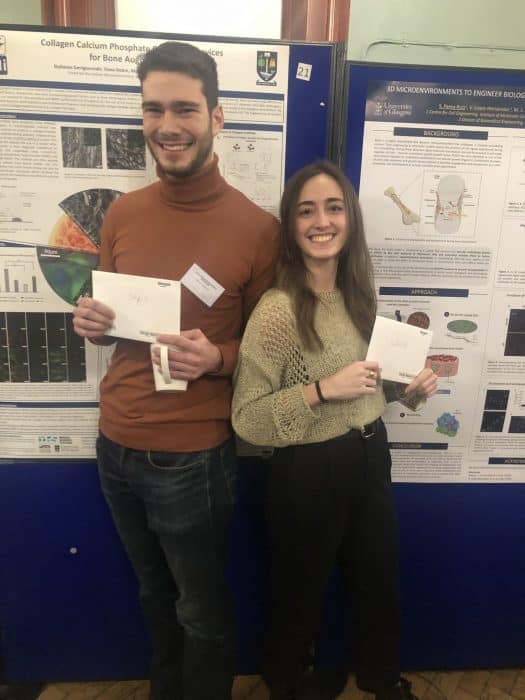 You can download the full agenda and all of the abstracts here: FULL PROGRAMME WITH ABSTRACTS_GLORI2020
The event was sponsored by:
Li-Cor
StarLab
MatOrtho
Biocomposites
ThermoFisher
PromoCell