Placements experience!
Blog written by PhD, Mariana Azevedo Gonzalez Oliva:
'I recently had the opportunity to visit Dr. Sirio Dupont's Mechanobiology Laboratory [1] in the Department of Molecular Medicine in Padova, Italy.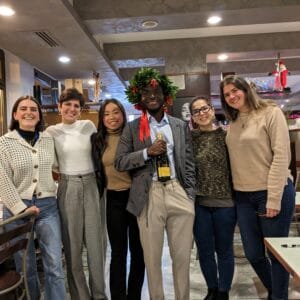 My PhD project focuses on the role of the transmembrane mechanosensitive ion channel Piezo1 in the transduction of viscoelastic cues to the cell nucleus. This involves the preparation of biomimetic materials with controlled viscoelastic properties, mechanical characterisation of prepared substrates and investigation of cell responses, such as cell morphology or focal adhesion formation. Visiting Dr. Dupont's lab was an opportunity to delve into the intracellular pathways involved in these processes as well as investigate how viscoelasticity and Piezo1 expression can modulate cellular metabolism.
Although my visit only lasted 3 months, I felt like my time in Padova was very formative and I learnt a lot of valuable lessons with the placement, both in an academic and professional sense. I believe that having been in a different working environment was an extremely beneficial experience, as it allowed me to adapt to new circumstances and to overcome challenges that surfaced as I tried to replicate experimental set-ups in an unknown laboratory. Plus, I was able to learn and practice different experimental techniques looking into cellular metabolism and oxidative stress, which I had not had a chance to do here in Glasgow.
In a personal sense, I was very thankful for all the wonderful food I got to eat and for the beautiful cities I got to visit such as Venice and Verona, which are just a short train ride away from Padova. Plus, although it is notoriously difficult to find somewhere to live in Padova, I was able to find accommodation just outside the city in Abano Terme, where I lived in a small house in a family farm where there were two donkeys, cats, and dogs. This ended up being one of the most fun aspects of my placement as I got to live in the Veneto countryside!
Hopefully, my visit to Dr. Dupont's lab will help maintain our ongoing collaboration and encourage more visits between our two groups.